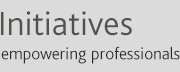 If you come from typical sustainability fields such as HSE consulting and engineering services, your professional associations probably satisfy some of your needs for ongoing technical training, but few of your needs for growing your business. And if you come from fields that are not often associated with sustainability (such as strategic planning, procurement, training, design or HR), you probably see how the recommendations you make
– or don't make – profoundly impact people, planet and prosperity, and that your professional associations have little in the way of practical tools for sustainability—
or for growing your business.
Vermillion fills the gaps by enabling all these groups to collaborate, innovate, and build strategic tools that create value for them, their clients and society.
Vermillion delivers:

Empowerment We empower members to uncover and sell practical solutions for elevating people, planet and prosperity.
Innovation and Value We will convene the world's most valuable and influential professional forums for consultants and their clients.
Market Development Services We work to improve public perceptions of professional service itself, so the advice of experienced practitioners will carry more weight in business decisions.
Network benefits
To promote these outcomes, we provide low-cost or no-cost management consulting and business support services to these traditional and non- traditional sustainability practitioners. Learn more
Elevating professional influence
Vermillion works to improve public and business perceptions of professional service itself, so the advice of experienced practitioners will carry more weight in business decisions. See how